The much-anticipated Bitcoin reward halving is just 106 days away now, scheduled to occur on 12 May 2020. There has been much debate about if this event is already priced in or not.
According to economist and trader Alex Kruger, arguing if the halving is priced in or not when the event is months away "makes no sense," because "the date is too far off for the market to have any clarity about it."
Miners he said speculate with inventories and accumulate so supply may increase if prices are not high enough or decrease. Because miner's behavior is not deterministic, it could be bullish or bearish in the short term but in the long term, Kruger said it is bullish.
Supply constraint is important not supply cut
According to analyst Bob Loukas, the amount of coin is completely meaningless rather the supply constraint and a known schedule are "very important" to the network value.
He argues how, "Bitcoiners love to talk about halving and supply constraints, but when discussion turns to limitations, suddenly there are endless sats to go around as it's divisible 8 decimal places."
He further explains that the total value of the network is what matters while an upcoming known cut in supply is nothing.
BTC price dropped 30% within a month of previous halving
But what about the previously halving, you say! Loukas says that is a "serious case of bias fitting," because the last halving period was a poor performing period within a massive bull uptrend.
As per the chart shared by him, after the Bitcoin halving on July 9th, the BTC price dropped by 30%.
During the end of May 2016, the BTC price started surging from about $440 to going as high as $770 in mid-June. By the time the halving came, the price was trading at $660 only to drop to $550 level in early August.
The rally then continued to BTC's all-time high at $20,000 in Dec. 2017 while seeing several corrections on the way.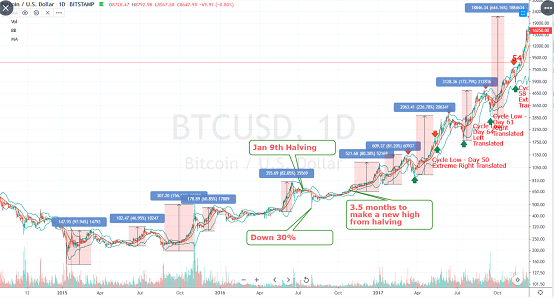 The May 2016 rally of 80% that has been construed as the "pre halving" rally, Loukas says is nothing but similar to several other 50% short term rallies that Bitcoin experienced during that period.
But still bullish on BTC price
The halving, however, will also cut down miners' reward into half, this time it would decrease from 12.5 BTC to 6.25 coins.
That's too bad but miners' do not sell reward rather their business case is to hoard bitcoin and cover cost, said Loukas. Miners' game is long term and they believe the flagship cryptocurrency will appreciate in value over time.
They sell because they have to cover operational costs but halving does not change that cost, so miners will sell the same amount of BTC, he said. Halving rather changes the margins but that's not an issue because Lokas says in a secular bull market, the price is increasing 20-fold between 4 year cycles.
Halving might not be the reason but Loukas is "very bullish" on BTC price for this 4-year cycle.
"BTC is a growing network that will continue to attract capital and evolve as trust deepens," said Loukas.