This week, as we reported the bullish flag on the Bitcoin price chart was broken to the upside which called for a big move ahead. But it ended up rejected at $9,600.
Currently, we are trading at $9,378 with 24 hours gains of 1% while managing the daily trading volume of just above $500 million, down from over a billion dollar recorded on top ten exchanges with real volume.
However, Bitcoin is still "quite promising," said Mati Greenspan, founder of Quantum Economics in his daily newsletter as he points out that the price remains outside of the downward channel and above the 200 DMA.
So, any corrections made by BTC, however small, at this point is a buy the dip opportunity.
Analyst Calls for $14,000
Market analyst, Benjamin Blunts also notes a "monster" monthly bullish engulfing candle which means more uptrend for BTC price.
The bullish engulfing pattern is a candle reversal pattern which is identified when a small red candlestick showing a bearish trend is followed by a large green candlestick showing a bullish trend, the body of which completely engulfs the previous one.
Back in June 2018, Blunts also called for Bitcoin's bottom at $3,000 and now sees this ongoing bull run where BTC has already gained 29% in the first month of 2020 to climb to at least $14,000.
"From a macro POV we can see a very clear 5 wave rise from the 6k lows breaking key down trend. Considering the rise from the 2018 lows was also 5 waves we would expect this next bull run to at minimum break the 14k highs," said Blunts.
However, in the short term, trader Majin is still expecting the bears to takeover BTC.
Also, as Majin further points out, "Chinese markets re-opening on Monday could be a great de-risking catalyst for Bitcoin & crypto."
Bitcoin futures volume rising while options market growing
In the volume department, we have been seeing a strong comeback on the CME Bitcoin futures market. About 500 contracts, 2500 BTC worth of interest rolled off the past week, which is in contract to near-record highs on crypto derivatives platform BitMEX.
The major market participants on CME are leveraged funds, other reportable, and non-reportable. According to the COT Report by Market Science, the largest players in the CME futures markets — leveraged funds positioning has retreated towards historically net short levels. While other reportable positions are about as long as they've ever been non-reportable positions are still on the long side of their historical averages.
"These conditions have preceded periods of positive risk-adjusted returns historically," reads the report.
When it comes to options market, the dominant force Deribit is still recording $1 billion a month in volume despite starting to lose its market share to new entrants, CME and Bakkt. Interestingly, it actually started seeing growing traction lately.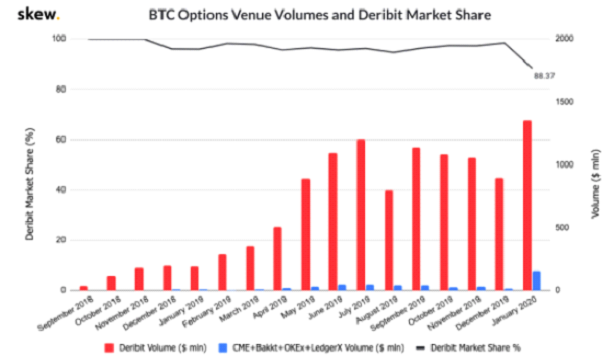 While CME is seeing growth in its Bitcoin options market, Bakkt's had been a flop, for now. It is a possibility just like with the future volume, the volume for options would build up later on as well.