One thing that doesn't follow the ebbs and flows of the crypto market and other seasonalities is the darknet markets. Unlike exchanges, gambling sites, and merchant services, darknet markets are unaffected by the change in the prices and kept to its upwards path.
In 2019, darknet market sales increased by 70% to over $790 million worth of cryptocurrency after registering a decline in 2018, according to the latest report by Chainalysis.
This has also been the first time that the darknet market sales exceeded $600 million. For the first time since 2015, its share of overall incoming transactions saw an increment as well, doubling from 0.04% in 2018 to 0.08% in 2019.
Although this share remained "extremely low" at 0.08% "recent increased volume speaks to the resilience of darknet markets in the face of heightened law enforcement scrutiny."
Amidst these increments, the source of transaction flow remained intact. A vast majority of these transactions still flow through exchanges which are the most common service customers are using to send cryptos to vendors and then vendors are sending these funding to cash out.
More Customers or More Purchases
Last year, eight of these darknet markets closed but another eight were opened that kept the total tally of active markets steady at 49. Even if some of the markets close, others are there to pick up the slack and satisfy customer demand.
On average, each of these active markets in 2019 also collected more revenue than ever, apart from during the height of Silk Road's peak in 2012 and 2013.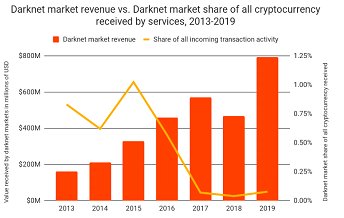 The revenues were actually driven by more purchases rather than larger purchases. Also, while the median purchase size in USD remained constant, the number of transfers spiked yet again significantly, from 9 million to 12 million.
"This suggests that either more customers bought from darknet markets in 2019, or that old customers are making more purchases," deduces Chainalysis.

Darknet Markets to Turn to Monero
The drugs consistently remained the most popular market and maintained its dominance. Those markets specialized in other illicit goods also bring in sizable funds, with card shops which specializes in sales of stolen credit card information being one popular market category.
As for what comes next for darknet markets, Chainalysis says more markets can be expected to accept or mandate the use of privacy coins like Monero (XMR). Currently, Empire is the only major user which it says "could change in 2020."
Already, some of these darknet markets have started implementing user safety features to make it difficult to be scammed by the market or the vendor. Wallet-less escrow also known as direct deposit and multi-signature technology are some of the measures taken.
Some markets like OpenBazaar with fully decentralized structure, are also adopting new infrastructures to avoid shutdowns by law enforcement. They, however, have low adoption that could be because they are harder to use than standard darknet markets but Chainalysis says if gained popularity they would present new challenges to law enforcement.