Ethereum price is surging, already up 63.58% in 2020 against the USD. In the BTC market as well, it is up by 22.61% YTD. Currently, it is trading at $212, a level last seen in September 2019 and that is when ETH hasn't even crossed the 200-day moving average, the long term trend.
Just like price, there has also been a steep increase in ETH accumulation. ETH holdings of miners are all set to break the all-time high.
Over the last three months, the entire Ethereum miner ecosystem experienced stable accumulation, resulting in the cumulative balance of all ETH mining pools hovering at an ATH of 1.69 million ETH, as per crypto data platform Santiment.
"These periods of accumulation tend to suggest high confidence levels in the project among the majority block creators, at the very least relative to the current market conditions," said Maksim Balashevich, founder of crypto data platform Santiment.

This undisrupted accumulation of ETH suggests high confidence among the Ethereum miners. However, in the past, a major miner sell-off of ETH has often been followed by quick and notable price corrections.
Back in late October 2019, when the miners of Ethereum network held on to this much of ETH a correction in ETH price drove some of them to offload their ETH holdings.
"Barring major market volatility this time around, we're likely to breach this milestone within the next few days," said Balashevich.
Active ETH Continues to Decrease
While ETH price and accumulation have been surging, the share of inactive ETH has been on the rise as well.
The amount of ETH locked in DeFi has already crossed 3.1 million and with DeFi projects expected to see much growth in the coming years, this number will only increase.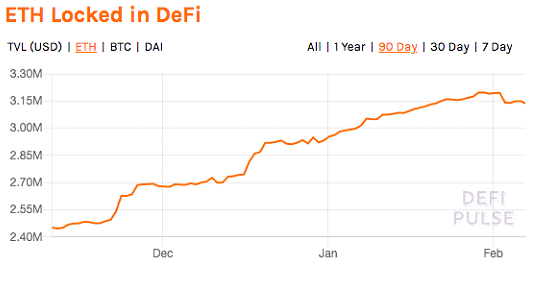 To calculate this inactivity, Santiment uses mean coin age which is based on the duration the coin stayed in its current address. Ethereum's mean age highlights a year-long period of relative token inactivity, which has been on a decline.
On January 1st, 2019, 54.6% of all ETH in existence were active while at the end of Jan. 2020, this number fell to 39.6%.
This highlights the same trend that "old coins remain relatively unutilized, and the share of active coins continues to decrease. With the explosive growth of 'ETH locking' mechanisms and DeFi solutions, this is likely to become the norm in years to come," said Balashevich.
Small ETH Holders on the Increase while Whales on Decline
Amidst this positive momentum comes the slow network activity. In the first month of 2020, the Ethereum network added 1,184,476 new addresses, a decline of 9.5% from Jan. 2019 and a whopping 82.4% decrease compared to Jan 2018.
Also, 5,801,553 ETH addresses interacted with the network in Jan. 2020, which is a drop of 14.1% compared to Jan. 2019. However, the same growth pattern has been seen number of times in the past — "a sluggish start to the year followed by major adoption cycles in Q2 and late Q4."
Addresses with small amounts of ETH meanwhile are on an increase. Those holding more than 0.001 ETH saw a hike of 24.7%, holders of 0.001-0.01 ETH surged 10.3%, and 0.01 – 0.1 ETH holders also recorded a positive growth of 6.1%.
While addresses with a small amount of ETH are on the increase, the whales recorded a decline. Addresses holding 1000-10000 ETH dropped by 0.02%, 10k-100k ETH by 1.24%, and the biggest drop of 5.06% was seen by 100k-1m ETH holders.
Interestingly, the largest ETH holders, from 1 million to 10 million which mostly belongs to exchange wallets, added a notable 40.9% to their cumulative holdings, a total of 3.1 million ETH.