The third largest cryptocurrency by market cap will be joining Bitcoin (BTC), Bitcoin Cash (BCH), Ethereum (ETH), Litecoin (LTC), EOS, and Cardano (ADA) on popular crypto derivatives exchange BitMEX.
The Seychelles-based crypto exchange is all set to launch the perpetual swap contracts of XRP on Feb. 5, announced BitMEX today. This means, users now get to long or short XRP.
"We at BitMEX are proud to announce that trading of a new perpetual swap on the XRP token (XRPUSD) will begin at 0400 UTC on 5 February 2020," the exchange said.
"Ripple, XRP, or Dogshit?"
BitMEX's announcement was followed by its CEO Arthur Hayes taking to Twitter to share that it has been time to allow its users to trade the digital asset just because it is worth more than zero. And if, "Is it called Ripple, XRP, or dogshit? Who knows, who cares," added Hayes.
BitMEX is known for its extremely high leverage of up to 100x on Bitcoin perpetual swap, though the leading exchange Binance surpasses it with its 125x leverage.
The derivatives exchange, however, will offer a leverage of up to 50x on XRP/USD perpetual contracts.
BitMEX will be offering two types of XRP derivatives products for its traders. The first one will be XRP/USD and the second one XRP/XBT, as per its website. The exchange also mentions that because it only accepts Bitcoin as collateral, it means margin, profit, and loss must be paid or received in BTC.
Hedging Instruments Bring in New Investors
"New instruments for digital asset trading are also important in this evolution,' said Breanne Madigan, Head of the Global Institutional Markets at Ripple in last months' insight report. She continued, "In fact, perpetual swaps are considered the most liquid and heavily traded instruments in digital assets today, creating an efficient forum to trade."
In this report titled, "The Sign of a Stabilizing Market: XRP Utility," she emphasized on the evolution of financial products like hedging instruments. Futures and derivatives she said play a "big role" in bringing new investors, especially institutions, into the crypto space which further stabilizes the markets.
"Continued growth in derivatives will open up access to more efficient capital and drive higher trading volumes throughout 2020 and beyond. Additionally, as more and more hedging products emerge, traditional investors will see greater opportunities to trade digital assets—reducing risk and further increasing trading volumes," former Goldman Sachs executive added.
"Dump it Arthur"
The crypto market, however, is expecting a dump incoming for XRP bagholders.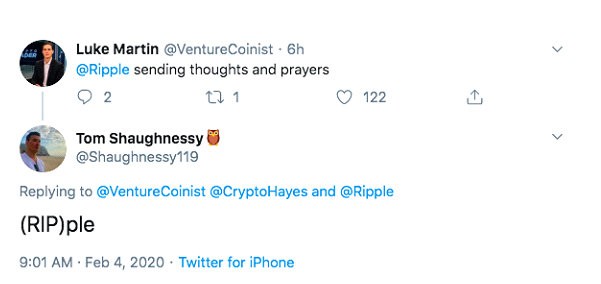 "Time for the Xrp will be a 0.01 digit shitcoin tweet so I know what to target," said analyst DonAlt while investor and trader Josh Rager commented, "Dump it Arthur."
"Remember xrp lol," is what trader Moon Overlord had to say about the upcoming launch of XRP perpetual contracts on the exchange notoriously known as "BitMEX REKT."
In August 2018 when BitMEX launched ETH/USD perpetual contracts, Ethereum ended up dropping in the following days, of which BitMEX was accused of manipulating.
Meanwhile, XRP has been trading at $0.250, down by 0.74% in the past 24 hours after surging to $0.257 today. Trader Scott Melker believes the digital asset which is up 28.35% in 2020 is still looking good.