XRP price is yet again on a crazy ride. It started last night when most of the crypto market was in red while the third-largest cryptocurrency by market cap was in the green.
In the past 7 days, XRP has surged 16.43% and is currently trading at $0.277. This has the digital asset up over 43% YTD and green against both BTC and ETH.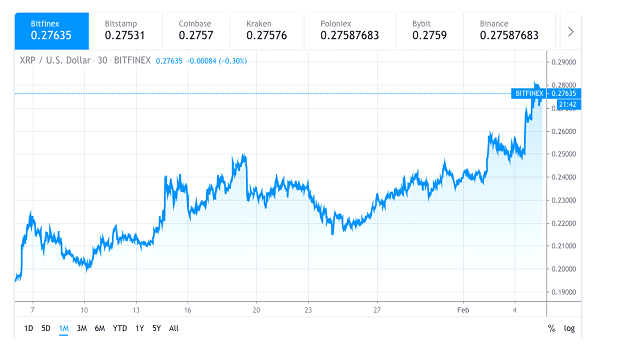 Crypto-focused trader, TraderSmokey explains that the digital asset has closed above its 200-day moving average which suggests further upside.
"XRP Daily Close Update: Closed above the 200MA + Kumo Breakout on Poloniex, not yet on Binance though. Either way, highly bullish in my opinion. I could see a small retrace but ultimately I think XRP will run to 3744 Sats in the coming days / weeks," he said.

Not Everyone Bullish
Crypto trader FiboSwanny says soon it will be facing resistance. "With the latest move higher in price, but with falling internal momentum, the price should stall at fib resistance or 31 cents."
XRP got a bear in the form of bitcoin bull Mike Novogratz of Galaxy Digital, a company that has made an investment in Ripple.
"It did underperform immensely last year," Novogratz said in a TD Ameritrade's National LINC 2020 conference in Orlando, Florida last week. "I think it will underperform immensely again this year and it's just because of the supply."
However, XRP's trading volume is gaining traction in different markets.
Also,

Adding Liquidity
This move came on the day when crypto derivatives exchange BitMEX launched XRP/USD perpetual contracts. About this development crypto trader Bagsy tweeted, "Bitmex is releasing a contract that allows a user to long or short XRP USD using BTC as collateral. Timing is interesting with how price is breaking out of downtrend on USD pair."
As we reported, the launch of the hedging instrument means new investors which will provide XRP with further liquidity. According to VanEck's latest report on bitcoin investment, XRP is the second most liquid digital asset.

Yet Another Partner to Use XRP leveraging ODL
This big move came amidst the news of Ripple partnering with another leading money remittance services company International Money express Inc. (Intermex).
"We are pleased to have begun the partnership with the Ripple team, and look forward to implementing new solutions on RippleNet and ODL to help drive growth and deliver greater efficiency," said Intermex CEO Bob Lisy.
Focused on the Latin America and Caribbean corridor, Intermex will be using On-Demand Liquidity service through RippleNet that leverages XRP as a real-time bridge between sending and receiving currencies to enable "even faster and cheaper cross-border transactions," in the US-Mexico corridor.
According to the World Bank, Mexico is the third highest country with remittance recipients, while the US tops the list of countries with the highest inbound flow to this region.
One of the largest US to Mexico remitter service providers, Intermex processes more than 30 million payment transactions a year.